Other Rural Partners
While Transport Thom and Clarence-Rockland Transpo are two of the largest rural partners operating in the National Capital Region, there are several other companies providing service to communities as far as Arnprior, Merrickville, Cornwall and Hawkesbury.  Service is only offered from Monday to Friday during peak periods, mostly toward Ottawa in the morning and away from Ottawa in the afternoons.
All photos are by the webmaster.
<![if !vml]>

<![endif]> Delaney Bus Lines
Delaney Bus Lines is a charter coach company established in the 1950s that runs three routes between Ottawa and Cornwall, Finch, Berwick, Crysler, Alexandria and Maxville, all east and southeast of Ottawa.  Prevost coaches make up the majority of the Delaney fleet and are used on the rural partner routes, along with an International HC Series cutaway coach.  Delaney is unique among the rural partners in that there is a public transit system in Cornwall, making the Ottawa-Cornwall route the only rural partner route to have public transit at both ends.
| | |
| --- | --- |
| | 1801 is a Prevost LeMirage XL-II, originally from Acadian Lines in Moncton, NB, shown on Queen Street at the World Exchange Plaza in downtown Ottawa on July 30, 2012. |
<![if !vml]>

<![endif]> Lanark Community Transit
Lanark Community Transit has been operating since May 2010, offering service between Carleton Place, west of Ottawa, and downtown Ottawa with twelve stops in between.  The three MCI coaches used for the route are operated by Laval-based Groupe Galland.
| | |
| --- | --- |
| | 453 is an MCI J4500 coach, seen on Queen Street at Metcalfe Street on July 30, 2012. |
<![if !vml]>

<![endif]> Transit Eastern Ontario
Transit Eastern Ontario operates between the Village of Casselman, North Glengarry Township, and The Nation Municipality and downtown Ottawa-Gatineau, serving the communities of Casselman, Limoges, St. Isodore, St. Albert and Crysler, located east of Ottawa.  Service is provided by 417 Bus Line, a Casselman-based charter coach company operating mostly MCI coaches along with some Prevost coaches.
| | |
| --- | --- |
| | 112-01 is a 2001 MCI J4500, shown on Queen Street at the World Exchange Plaza on July 30, 2012. |
<![if !vml]>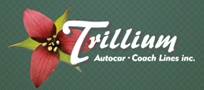 <![endif]> Trillium Coach Lines
Trillium Coach Lines was the official transit provider connecting Embrun, Limoges, Russell and Vars to downtown Ottawa and Gatineau.  Russell Township, located about 30 minutes southeast of downtown Ottawa, is home to about 15,000 people, concentrated largely in the towns of Russell, mainly Anglophone, and Embrun, mainly Francophone.  While service between Russell and Ottawa only operates during weekday peak periods, riders have the option of paying a small premium to use their monthly passes on OC Transpo buses.  Trillium Coach Lines was purchased by 417 Bus Line in mid-2013, and prior to then the coach fleet consisted mainly of school buses and Prevost coaches.
| | |
| --- | --- |
| <![if !vml]><![endif]> | Bergeron Bus Lines 2012 is a 2000 Prevost Le Mirage XL-II, originally Orléans Express 5003, shown on Queen Street at the World Exchange Plaza in downtown Ottawa on Nov. 24, 2010.  A charter company based in Vars, in Ottawa's southeast end, Bergeron Bus Lines was renamed Trillium Coach Lines in 2011. |
| <![if !vml]><![endif]> | 2612 is a 2006 Prevost H3-45, seen on Queen Street at Metcalfe Street on July 30, 2012. |
| <![if !vml]><![endif]> | 2808 is a 2008 Prevost X3-45, seen on Queen Street in downtown Ottawa on July 30, 2012. |